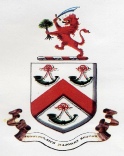 All text and illustrations on this website are copyright.
In 1843 he offered the farm and 46 acres with a cottage and two barns to be let for five or seven years. In 1848 James and Nanny were able to move from Liverpool and set up as farmers in Low Bentham. Here the youngest, a second Edward later to become a priest, was born in 1850. By the mid 50's he was prosperous enough to have his portrait painted. On his death in 1875 Greenhead passed to his eldest son, Richard Haythornthwaite, Vicar of Cleator Moor. None of the family lived at Greenhead after that. The property finally passed out of the family on the death of Richard's widow in 1923.
James Haythornthwaite b.1810
of Mercer's Court Liverpool
Jim Fisher (James Frederick Fisher B.1922) has studied the Haythornthwaite Family tree at length and has contributed the details of the life of James Haythornthwaite who lived at Mercer's Court Liverpool.
There were other Haythornthwaites working in the docks, so he may have gone to work for his relative James Hathorne "Master Porter and Victualer" of Mercer's Court. m 1837 he married Nanny Foxcroft from Wennington near Bentham. Richard was born in 1838, William in 1840, Edward (who died young) in 1844 and Thomas in 1847. During this time Gore records his progress from market porter to warehouseman, to carter and finally, in 1848, to Cart Owner. m 1841 his cousin Thomas from Kirby Lonsdale sent him particulars of the sale of Greenhead in Bentham with 45 acres (Anthony Haythornthwaite still has the letter). Somehow he managed to raise the money, though not yet in a position to give up his business in Liverpool.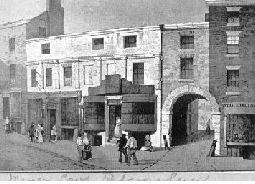 James Haythornthwaite and his wife Nanny Foxcroft lie in the churchyard of St John's, Low Bentham.A large tree has preserved the lettering on their grave-stone. They were both born in 1810 and died within a few months of each other in 1876. James was born in Claughton near Lancaster. As a young man he moved to Liverpool to work in the docks. In Gore's Directory for Liverpool for 1829 we find him at 14 Mercer's Court off Redcross Street and near the Clarence Dock. Mercer's Court survived until about 1970 when the site was cleared for the erection of the Queen Elizabeth H Law Courts. The Yellow Submarine, a monument to John Lennon designed by my (Jim Fisher's) son Adrian, lies just 200 yards away.