All text and illustrations on this website are copyright.

COLLET CHUCK
Collet Chuck for ER25 Collets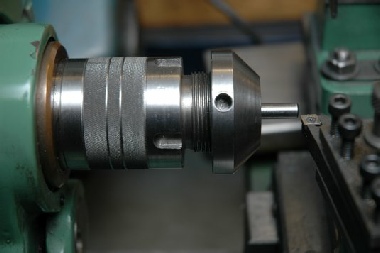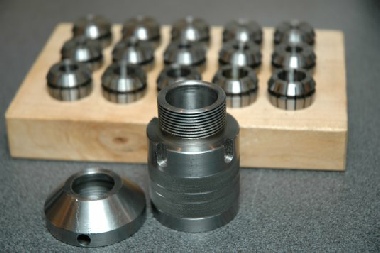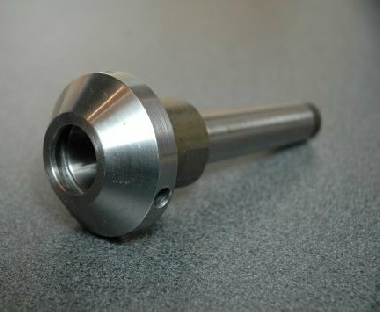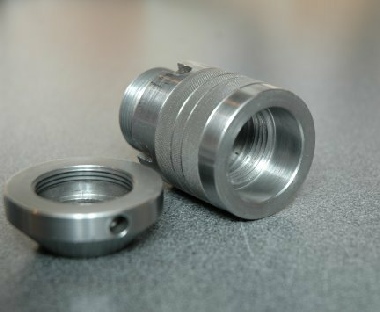 I obtained a set of ER25 collets when I bought my Milling Machine. The original 2MT chuck, shown below was ok for the milling machine, but had no through hole and was therefore useless for holding long items in the lathe. I set about making a collet chuck for the lathe similar to the one described in model Engineers Workshop Volume 56.
The closing nut is the original one, and as making one of these is a very complicated job I would suggest buying a spare nut if you do not have one. The effort in making is not worth the saving.
The two photos below should illustrate the item which was made from free cutting mild steel.
First I made a cylindrical plug exactly the same size as the register on the Myford mandrel nose.
I chucked a piece of steel and first bored and screwcut the end to fit the Myford nose. I then bored out the register to fit the plug that I had previously made identical in size to the Myford nose. The item can then be turned round, fitted to the lathe mandrel, and the taper can be turned to fit the ER25 collets. Finally the end is screwcut to fit the closing nut.
The milled recesses are for tightening the chuck or unscrewing using a "C" spanner.
Doing things this way ensures absolute concentricity and accuracy. Mild steel has proved very durable in use.
Collet Chuck, in Place on Myford ML7B Ready For Use
Collet Chuck Together With Set of ER25 Collets
Collet Chuck, Showing the Lathe Mandrel Fitting
As stated above, he closing nut would be a very difficult and complicated thing to make, as it has an offset recess to hold the collet in place.
Luckily, they are fairly cheap to buy, so buy one before you begin and make the thread to fit the closing nut.
If I had to buy another closing nut, I would buy one of the nuts with a ball bearing. These are now available at a reasonable price and make the operation of the device so much more pleasant.