All text and illustrations on this website are copyright.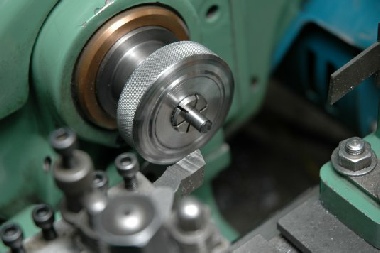 MAKING "MYFORD STYLE" COLLETS
In The Workshop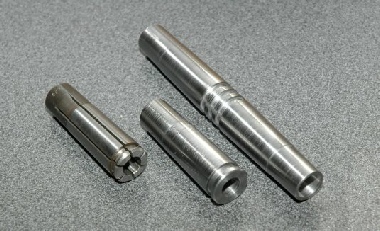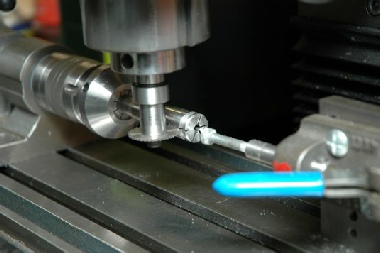 Home Made "Myford" Collet and Closing Nut
Stages In Making "Myford Style" Collets
Slitting a Collet in the Vertical Milling Machine
This project is still ongoing as I have some problems to solve.
Myford Collets, are a Myford patent and as such we can only make for our own use. However, in my humble opinion, they are far superior in grip to "E R" collets, but to buy a full set is somewhat expensive.
They are a challenge to make - to say the least - as there is nothing to get hold of in the later stages. The idea of making them "back to back" came from a conversation some years ago with Alan Hopwood of Ripon.
I have made them successfully in mild steel, but I am currently developing the process of making them in Silver Steel for subsequent hardening.
The photo on the right shows the three stages of making these. Firstly making a double blank, using the 2MT in the mandrel to make the second end and drill the ends.
Second stage is to part - or saw - in two and to bore or ream the central bore to size.
Third stage is to slit in 6 parts, stamp with the size and gun black the back end. The blacking only serves to make them look like the genuine article, but I do have to look at the size stamp to see if it is "One of Mine" or one by "Mr Myford". The photo shows one of mine.
They are by no means easy to make.
If you can afford to - then buy a set of genuine Myford collets.
The slitting is the difficult part. With mild steel I did it like the photo on the left. Pushed hard onto a tapered mandrel held in a dividing head. However - as shown - I had to "climb mill", particularly on the larger sizes as otherwise the slitting saw spread the segments and jammed.
The one in the photo is actually silver steel, but I found that it work hardened and I need to grind the slots instead of sawing.
Back to the workshop !!
See full construction details and plans on the Articles page.