All text and illustrations on this website are copyright.

KNURLING TOOL
For the Top Slide of a Myford Lathe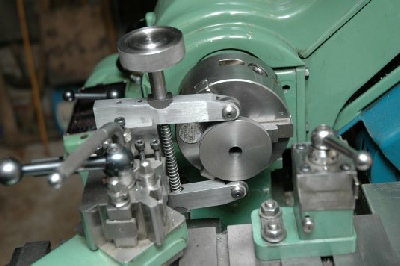 Knurling Tool in Place on the Lathe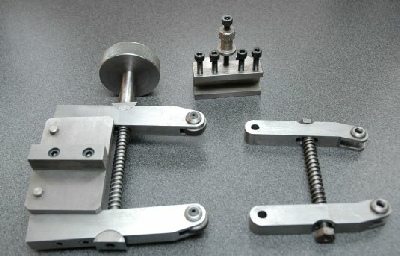 Knurling Tool with Spare Arms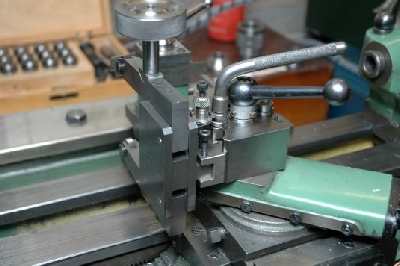 Tool in Tool Holder Showing L Shaped Large Arms
This knurling tool is a clamp type of tool which gives superb knurled finish without putting undue strain on the lathe bearings.
It was made from a kit by Hemmingway at www.HemingwayKits.com . However as sold, the knurling tool has a maximum capacity of less than two inches, so I made a spare pair of arms which are L shaped to increase the capacity to around three inch diameter.
The photo on the right shows the unit fitted with the larger arms and the original arms are shown on the right.
Both sets of arms are pivoted on the metal dowels which can be seen in the photo. In order to change the arms, it is only necessary to punch out the dowels, replace the arms with the other set, and to tap the dowels back in place.
The Knurling wheels are held in place with hardened steel bolts and so the style of knurling can be changed to suit the job in hand.
I gave the unit a substantial tightening knob as quite a bit of pressure is needed when knurling.
The photo on the left shows the unit held in my quick change tool post on the Myford.
The fact that the arms are L shaped can be clearly seen from the back of the unit.
I start knurling with the lathe stationary and clamp the knurling tool hard on to the work. I then run the lathe in fast back gear and traverse the saddle back and forth whilst increasing the pressure on the work.
Lubricating oil is used on the work in progress.