All text and illustrations on this website are copyright.

BELT SANDER
From scrap-yard parts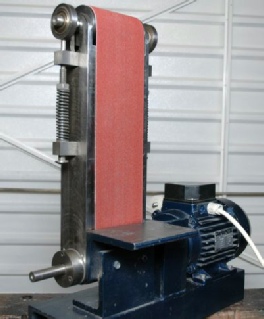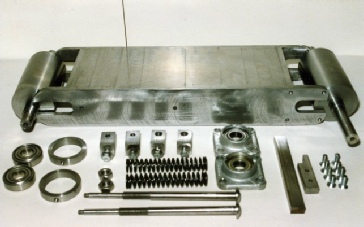 Vertical Belt Sander Made Mainly From Scrap Parts
View of Some of the Parts Before Assembly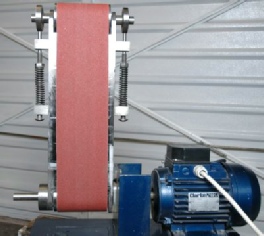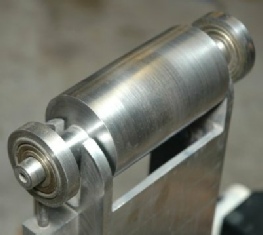 View With Table Removed To Show Support Details
View Showing Top Roller Arrangement
The idea for this belt sander started when I found a 5 foot length of (rusty) U section channel 21/2" x 5" in a scrap yard. £3 changed hands and I returned home satisfied with my purchase.
I cut 3 pieces from the channel. 17" for the base. 16" for the main belt frame and 5" for the support piece. The support piece is welded vertically to the base as shown in the lower photo. The main belt frame was shaped and then supported by being bolted to the support piece, mainly through a Picador flanged bearing. Thus (looking from the front) the left hand side of the main frame is completely unsupported, allowing the belt to be easily removed and replaced from that side. The motor is coupled to the shaft using an Oldham Coupling.
The two rollers at 21/2" diameter were turned from an old roller shaft that I had in stock and are barelled to keep the belt central. The bearings on the top roller are pressed into two turned rings which in turn are held on the top of two long bolts, turned to shape. These bolts are sprung upwards to tension the sanding belt. The bottom roller has a second bearing held in a turned cup and bolted to the main frame.
The bottom of the girder at this point is rounded off to match the bearing cup. Note from the parts photo - originally I used a square Picador bearing housing, but this interfered too much with belt changing.
Thus to change the belt, it is simply necessary to lean on the top roller and slide the belt to the left. The table is simply two heavy pieces of angle iron bolted together. The end shaft was to carry a sanding disk, but abandoned as it would make it more difficult to change belts.
The unit is extremely sturdy, compared to the units available in most tool stores which are flimsy and of low power. It has become an invaluable accessory to the workshop.