All text and illustrations on this website are copyright.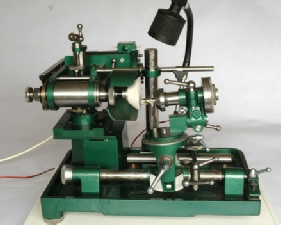 Tool and Cutter Grinder
From an Old TipLap Grinder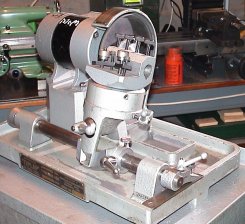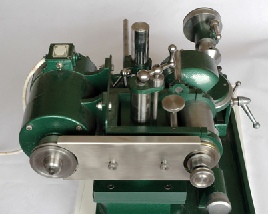 Finished Tool and Cutter Grinder
The Original TipLap Grinder
I bought a very basic TipLap grinder at a machinery auction. As there was no facility for changing the grinding head or indexing the tools I set about modifying it on the lines of the Quorn tool and cutter grinder.
The wheel head is completely fabricated, using the original motor and a spindle made from the "Spindles" book in the Nexus special interest books range. The spindle has a Myford nose, and the interchangeable grinding heads are held in place by 3/8" Myford Taper Collets and a drawbar. The spindle is driven by a plastic round belt.
The workhead has been made mainly from Quorn castings and I have added a second bar which, in conjunction with a Quorn rocking lever, allows fine control of the amount of tilt on the workhead. This second bar is mounted on screwed "jack" feet to allow it to be adjusted absolutely parallel to the original bar.
The rocking lever is mounted on a collar that slides on the main bar and is attached to the workhead as shown below.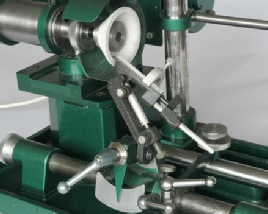 The wheelhead can be raised and lowered in it's entirety using the handle on the top of the column. However for fine height adjustment, the outer part of the wheelhead, is pivoted on the central clamping part and the outer section, including motor and spindle may be tilted by means of two large adjusting screws situated on top and below the workhead.
For drill grinding, I normally use the four facet method with the indexing workhead, however I have also adapted a Reliance drill grinding attachment to work with the cutter grinder. This works better with small drills than the 4 facet method.
The second vertical column is to hold either a work light or a tool rest. Unfortunately it is necessary to remove this second column if the wheelhead is to be turned over and used at right angles e.g. for grinding taps.
See full construction details and plans on the Articles page.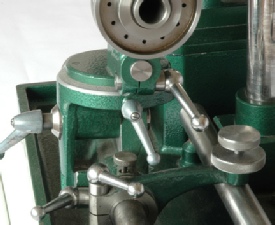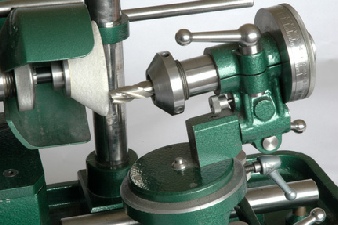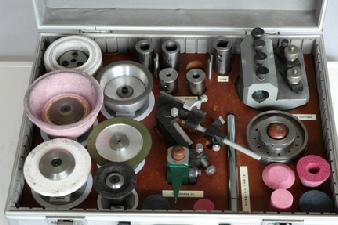 Wheel Head with Rise & Fall Adjustment
Twist Drill Grinding Using Reliance Attachment
The Rocking Lever Mounting and Secondary Bar
Work Head From Quorn Castings
Accessories and Grinding Wheels