All text and illustrations on this website are copyright.

HAND TURNING REST
For the Myford ML7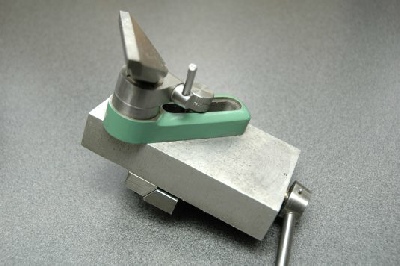 Hand Turning Rest in Place on the Lathe
The Hand Turning Rest on The Bench
Base Plate Inverted Showing the Cam Action Underneath
When turning anything on the lathe, one almost always needs to either chamfer the edge or to deburr the bore of the obkect that you have created. Changing tools for this operation is a pain, particularly if you do not have a quick change tool post.
I made this great attachment to allow me to simply clamp a hand turning rest to the lathe shears and quickly chamfer the part using a hand graver. It is quite satisfying hand turning metal, and I have even turned balls by this method.
The rest is clamped by rotating the large handle and by ingenious use of a cam. this both locks the unit to the lathe bed and also locks the hand rest in it's current angle
The unit consists of analuminium block which clamps onto the lathe bed by two pieces of metal which have a dovetail action and clamp between the shears. The fact that the base block is aluminium means that it does not mark the bed of your precious lathe.
When the lever is rotated, the back bar is raised thus spreading the two bars between the shears. At the same time, the upper knob is lowered, clamping the top part to the bed in it's current position. 10 seconds to set it up at the most.
The original design was one of George H Thomas's great tool designs.
I bought a kit from Hemmingway which had all the necessary parts and also had a cast baseplate in aluminium.
A visit to www.HemingwayKits.com is well worthwhile for all manner of workshop equipment.
This really is one simple device that, once made, you will wonder how you ever managed without it. I reach for it at least once for every part that I make. I have fixed two bars to my tool board behind my lathe that are the same width apart as the shears on my lathe.
I un-clamp the rest from my lathe and clamp it straight back on the wall. Always to hand