SCRIBING BLOCK
For the Model Engineer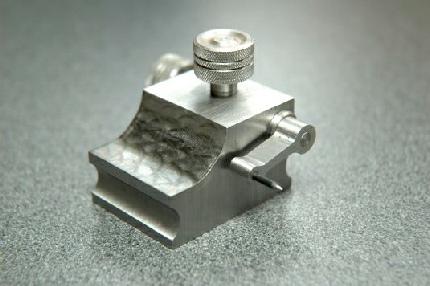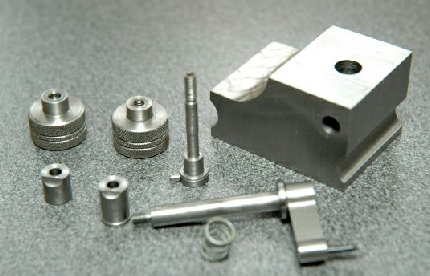 Small Home Made Scribing Block
The Parts That Make Up The Scribing Block
When marking out I often use a scribing block rather than a height gauge. The problem with scribing blocks however is that that they are awkward to use when scribing lines down near the surface plate.
This neat little scribing block was described in a book by "The Master" Geo. H. Thomas and has proved to be very easy to use.
As you can see the scribing pin is held on an arm which rotates on a horizontal shaft. The height can be adjusted by rotating the knob at the rear of the block. Once set, the height is locked by tightening the knob on the top which closes two split cotter pieces which lock onto the horizontal shaft.
A spring keeps these cotter pieces in tension to give a friction feel to the height adjustment.
The photo shows the individual parts.
The vertical shaft has the spring on it, followed by the larger cotter, the smaller cotter and then the knob is screwed on.
The cotter was originally assembled as one piece and the horizontal hole was then bored with the vertical cotter shaft in place. Obviously the horizontal hole intercepts the edge of the the vertical cotter pin and thus by boring the hole, the cotter is shaped to the horizontal shaft. It is only then necessary to split the cotter in the centre of the curve to create the two cotter parts.
The base is recessed to allow only the edges to ride on the surface plate.