All text and illustrations on this website are copyright.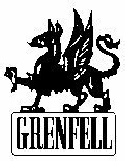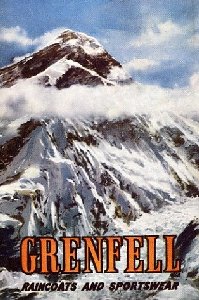 Grenfell for the Mountaineer
1938... 1999.... Then, as now, it was exactly the same cloth. The original Grenfell Cloth is still used for many Grenfell garments including those sold to the general public.
Everest, Nanda Devi, Dhaula 4 . . . wherever mountains issued their challenge Grenfell has helped men to meet it.
In 1933, a Grenfell tent formed the highest habitation ever made by man on this planet. F.S Smythe slept in it for 13 hours-and awoke refreshed, although scientists had predicted that any man sleeping at that altitude would never waken. It was pitched at 27,000 feet, in a blizzard that drove Smythe to his knees ... a wind that forced microscopic snow crystals through other tents pitched 500 feet below-but not through the Grenfell cloth.
The cloth that made the tent also made the expedition's clothing. Grenfell cloth again went to Everest in 1936,
Grenfell cloth has been worn on many of the leading mountain and arctic expeditions since the early 1930's.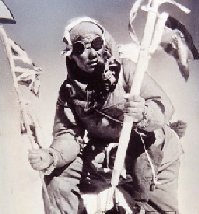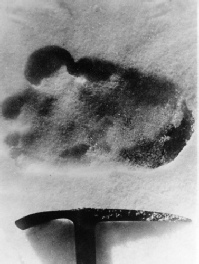 Ang Nyima in the Himalayas
The view from the North Col Mt. Everest
Footprint of The Abominable Snowman
A representative but very incomplete list includes :-
Oxford Ellesmere Land Expedition, 1934/5 British Grahamland Expedition, 1934/7 British American Himalayan Expedition 1936 British West Greenland Expedition 1949 Sheffield University Geological Expedition to Kilimanjaro, 1953
"Daily Mail" Abominable Snowman Expedition, 1954
British South Georgia Expedition, 1954 Cambridge Expedition to Afghanistan, 1955 Spitzbergen/North Greenland Expedition, 1956 Yorkshire Himalayan Expedition, 1957 British-Pakistani Forces Himilayan Expedition, 1958
British Alpine Hannibal Expedition, 1959 Oxford Andean Expedition, 1960 Dhaula 4 Expedition, 1962 British-Soviet Pamirs Expedition, 1962 Cambridge Trans-American Expedition, 1962 Nonesuch Andean Expedition, 1963